FRIENDS FOR LIFE – by Abigail Waite

They say if you have a friend for over 7 years then they are a friend for life. You might meet some friends at primary school and then some new ones in high school but imagine meeting some friends in your first dance class. I bet you wouldn't believe me if I said they could become your best friends through school, university and even beyond.
I have a friend who I met, at the age of 7, in my first class at GSD. She has been one of my best friends ever since – she came to my wedding and helped me celebrate my first baby.
We often hear students talking about their memories of the first time they met each other or their first classes together.
Recently someone recalled 'wetting themselves' in their first ballet class at the age of 3 and then their 'now best friend' copying them so they were not alone!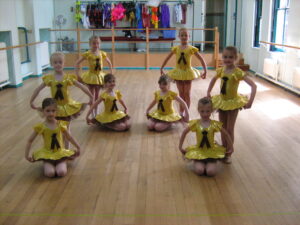 But here I want to show you a group of friends who started dancing at GSD and met each other aged 4. We see this happen with so many different groups of friends but this is our latest group of leavers who stayed until they were 18 and now some even attend the same university! They have been through so many adventures together with us as part of the GSD family.
From some of their first show with rehearsals in the studio and trying on their costumes for the first time.
Often after their first show and seeing the other genres of dancing the girls beg their mums to try other styles of dancing. One class soon becomes 2 or 3 and the children get to stay in between the classes to play and socialize.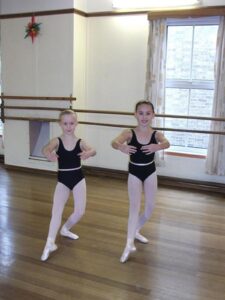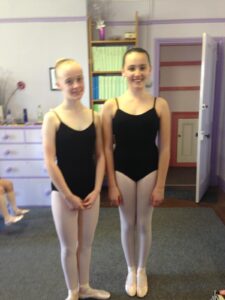 The excitement of their first exam with their proud parents taking photos before they go in and celebrating their hard work is a lovely highlight of the day. The children nearly always go in with another person or a small group and they often stay with the same group for years.
This group of girls took part in extra performance opportunities like the English Youth Ballet, which made even more special memories of their dancing.
You can really see how much our GSD girls mean to each other and the bond they have created over the years of dancing next to each other.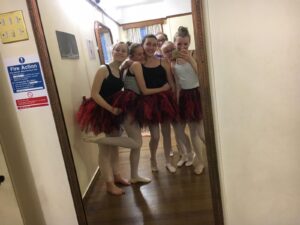 Having non-uniform sessions at the end of term is always fun especially at Christmas time with fancy dress.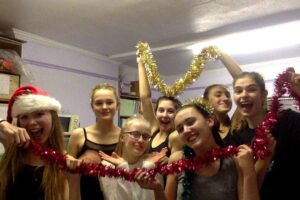 Seeing the girls grow up over the years into teenagers and then young adults makes all the teachers here feel very proud of the journey our students make and the polite, well mannered and considerate people they become.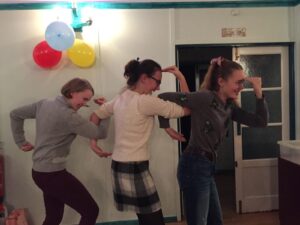 From the time they were in grade 2 there were 3 'Emilys', ever since then they have been known by their last names (their choice) … I think it is very significant how many of our students develop nicknames over the years and really shows the family, fun atmosphere we have at the GSD studios.
The same group of girls had the exciting opportunity to model some pointe shoes for the brand Capezio at the St Giles hotel. Another special memory they created together to look back on in years to come!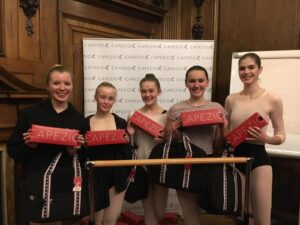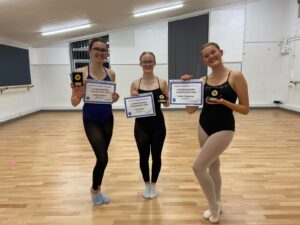 Taking part in the choreographic competition is a great opportunity for the girls to make up a dance using their own creative ideas as well as having to choose and cut the music, find a costume and rehearse in their own time. Most recently we held this competition via video entry due to the current Covid-19 pandemic but it proved a lovely keepsake for the girls to look back on in years to come.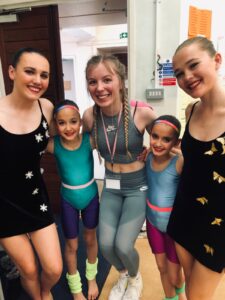 The students who once looked up to the older girls realise that they themselves have become the influencers and the role models to the younger students.
They help to motivate and inspire the next generation of GSD dancers which keeps the wonderful atmosphere that we have at the studio.
They develop such lovely relationships that even after they have officially left GSD they still come back to help at shows and other events to see their teachers and friends.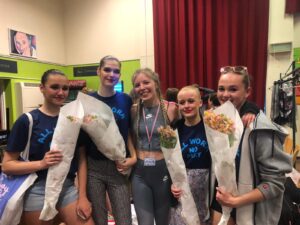 It is always emotional when the time comes to finish school and perhaps leave the area. The 'last show' brings so many feelings of adrenaline from the performance and the students realising it might be the last time they perform together.
The funny thing is that they are back in September and joining in the senior classes and every holiday when they are back in Norwich.
Some return to the dance classes after a few years and are still here years later…. One of our students has been dancing with GSD for nearly 25 years.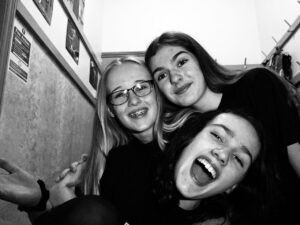 When you first enroll your child into a dance class, you think that they will:
• Learn how to dance
• Improve their fitness levels
• Have a hobby
• Strengthen their muscles and increase their flexibility

What you might not realise that you are providing them the opportunity to:
• Make memories with friends for life
• Learn discipline in a friendly family setting
• Have a safe fun place to go in the evenings rather than sitting in front of the TV or 'hanging out' on the streets.
I hope that you have enjoyed this insight to some of our students and that it gives you a glimpse of why GSD is such a special dance school. Will you be joining us and experiencing the joys of what dance has to offer as part of our GSD family?